Please get in touch directly with Saskia via the contact panel if you are interested in buying, commissioning or exhibiting her work.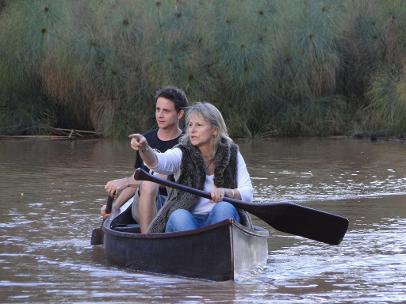 Saskia with son, Adam, bird watching from their canoe in Karen, Nairobi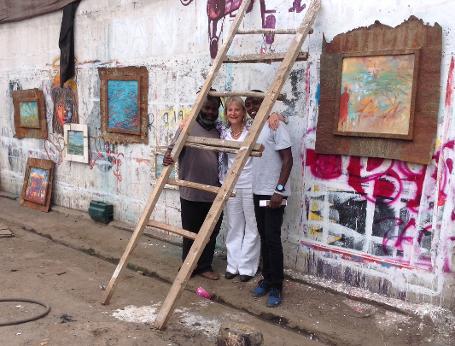 Saskia at the Go Down Arts Centre, Nairobi with Kenyan artist,Patrick Mukabi (her mentor) and Mike Kyalo(lovely young artist who does her framing) with recently framed paintings on the wall behind.
SASKIA is an international artist and a globetrotter from birth, now based in Dorset, England.
One of the first 25 women to graduate from Jesus College, Oxford - where she read French and German - she has lived, worked, painted and raised her family in all sorts of places. (India, Germany, England, Malta, Kuwait, Italy, Kenya).
She has always painted, experimenting with different mediums and concepts from portraiture to abstracts, traditional military watercolours to the vivid oils, acrylics and mixed media in her seascapes and representations of Africa. Saskia's paintings are inspired by, and are reflections of, the different landscapes and people she has encountered all over the planet throughout her adventures.
Saskia has a Facebook page "SASKIA" where you can find out about upcoming exhibitions and news.